It may only be October but the Christmas books are coming through thick and fast and I am really enjoying featuring them on my blog. Today I am pleased to welcome Catherine Ferguson to my blog with her 2017 festive title, Christmas at the Log Cabin. As the name suggests this is a truly festive white Christmas read and I would love to escape to the cabin this Christmas!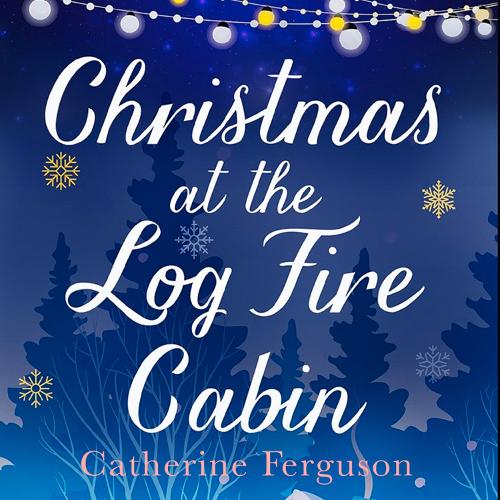 When Poppy's boyfriend Harrison proposes the week before Christmas and gives her twelve days to decide, she doesn't know what to do. With the festive season in full swing, it's make or break time for the couple and the clock is ticking...
Meanwhile, Poppy's best friend Erin is desperate for the pair of them to fulfil their dream of setting up a dinner party catering company - and when an opportunity arises at a luxury log fire cabin, the girls take their chance to impress. But they hadn't bargained on the owner of the cabin being quite so attractive - or having quite such a sexy voice.
As the twelve days tick on, will Poppy realise that Harrison is the one for her? Or will it be love in the lodge when the new year comes?
Lose yourself this Christmas in the new novel from the brilliant Catherine Ferguson, perfect for cosying up with by the fire.
Publisher:

HarperCollins Publishers


ISBN:

9780008274597
Catherine Ferguson and Avon Books have kindly shared with me an extract to share with my blog readers .....
Sitting up, I hold the duvet around me and run my hand admiringly over the smooth skin of his back. 'So, you really think I should take the bull by the horns and just do it?'
'Give up the restaurant? Yes, of course. They don't appreciate you anyway.' He smiles and leans down to kiss me. 'Not like I do.'
My heart expands with love. 'I'm so glad you think that. I mean, obviously I'd start small. And I won't be earning a great deal at the beginning but I've got savings, so—'
He shakes his head. 'Don't worry about that. We'll easily manage.'
I sink back onto the pillows happily. I can't believe he's being so supportive! But I should have realised he would be. I don't know why I doubted it. We're a team now and that's what partners do – they root for each other.
'When I get my promotion, it will mean a big step up in salary,' he says. 'So, the fact is, we'll more than manage. In fact, you won't need to work at all.' He beams at me as if this will be music to my ears. 'You can just stay at home. Look after the house.' He winks, getting to his feet. 'And me.'
He zips up his jeans, picks his shirt up off the floor and walks out, just as the music downstairs announces the early-evening news.
My mouth opens but nothing comes out.
A minute later, I scramble into my dressing gown and follow him downstairs. This is far more important than the news.
Blood is rushing through my veins, urging me on. I'm normally so mild-mannered, any sort of confrontation makes me feel physically sick, even if I'm only an observer. But having my hopes and wishes discarded so easily by Harrison – with no attempt by him to understand what they actually mean to me – has really touched a nerve.
I don't yet know if I have the courage to branch out in a new direction, but it suddenly seems massively important that I let Harrison know where I stand on the subject. I'm not quite sure where meek and mild Poppy has disappeared to, but something deep inside is urging me on and it's not the steak pie I had for dinner!
'Harrison? Question: what about my career?' I stand squarely between him and the TV. I might sound calm but my whole body is shaking.
He looks taken aback by my directness and I almost feel guilty. But irritation is expanding inside me. Why is it okay for Harrison to be focused on his brilliant future career at the accountancy firm, but not me?
'You can still do your cookery thing,' he says magnanimously, trying to peer around me at the TV. 'If you really want to.'
Suddenly, I'm doing a petulant little dance, moving from side to side, so he can't see the newscaster. Eventually, he gives up and sits back, looking mildly puzzled.
I take a shaky breath, hoping to quell the nausea. 'I want to work, Harrison. I'm not the type to be a lady of leisure. And you know what cooking means to me. I really think I need to do this. If I'm brave enough.'
'And so you can,' he soothes. 'A little job here and there?' He winks. 'As long as you'll still be here most nights cooking up a storm for when I come in exhausted from work. You look after me so beautifully, Puss.'
A little job here and there? Is he actually listening to a word I'm saying?'
'Harrison, If you cared enough, you'd realise this is important to me. If the course tutor thinks I can do it, then why not? Perhaps I really can make a proper career out of cooking.'
There's a tense silence.
Harrison, I can tell, is bemused by my taking a stand. I'm actually quite shocked myself. And I'm determined not to back down like I usually do.
He sighs and gets up off the sofa. 'Okay, okay. Maybe you can.' His voice is gentle, if a little patronising, but I decide to ignore that. He pulls me into his arms. 'Just as long as you don't go rushing into something you'll regret,' he murmurs, close to my ear.
'What do you mean?' My voice is muffled by his sweater.
'Well, what you have to realise is that, long-term, working full-time probably won't be possible. That's all I'm saying.'
I pull away and stare up at him.
Why won't it be possible?
Am I missing something here? He's not making any sense.
He shrugs. 'When the children arrive …'
'Children?' Confused, I turn and glance out of the window, half-expecting to see a school bus park up outside and a load of kids pile out.
'Yes. The children we'll have.'
He takes my hand. 'I can't believe you think I don't care enough about you, Puss. I care very much indeed. In fact, I'll prove it. I've been thinking about this for a while. Since last Tuesday, in fact.' He stares into space, his brow faintly knotted. 'No, it was Wednesday. The day the Footsie plummeted five hundred points.' He shakes his head. 'Anyway, that's not the point. Obviously, I would have preferred to wait for a more romantic setting, but since you seem to need reassurance that I'm here for you –'
Abruptly, he falls to one knee, still grasping my hand, and for a second, I think he must have spotted another snag in the carpet.
Then my heart starts to gallop like a husky across the snow as I realise what's about to happen.
Harrison clears his throat.
'Poppy Valentina Ainsworth, will you marry me?'
I hope you all enjoyed the extract and you too visit the Log Fire Cabin this year.
Thank you to Catherine Ferguson and Avon Books for inviting me to take part in the blog tour.