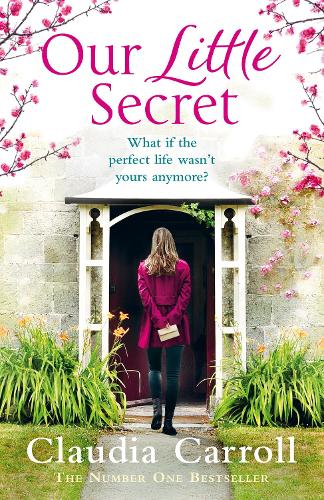 Sarah Keyes has the perfect life. A high-flying job in a law firm, a beautiful daughter and a house to die for. So how does she find herself looking in through the kitchen window while another woman enjoys it all?
When Sarah takes pity on a struggling young graduate who can't get a job, she thinks she's doing the right thing. She's being kind, generous and helpful to others, as she always is.
But as Sarah allows the younger woman into her home, her law firm and even her family, is there more to this pretty youngster than meets the eye? And how can Sarah reclaim the life she has built?
A sensational, page-turning read, perfect for fans of Marian Keyes and Patricia Scanlan.
Publisher:
HarperCollins Publishers
Claudia Carroll is a great author and I look forward to every new book. 'Our Little Secret' is another great book with a strong female lead character in Sarah Keyes. A career woman who works hard but also has a lot to give, working hard in her legal career. It is through her giving back in a legal aid clinic that she meets a young girl who Sarah helps to have a better life but is all as it seems.
As other reviewers have said, the cover is misleading. It looks like it will be a cosy read however it is really a book that grips the reader and keeps their attention to the very end. It is a book which has great characters although there is something that unsettled me and left me wondering throughout. There is a definite message of take care of who you trust!
I have been given an extract to share with my blog readers to get you interested ....
It's a truth universally acknowledged that when every other aspect of your life is ticking over nicely, something you least expect is bound to go belly-up. And in my case, by the end of May it was my already precarious financial situation.
No matter where I looked, and believe me, I went through every household expense with the finest of toothcombs, I could find absolutely nothing I could possibly cut back on. Darcy's school fees? Forget it. I considered that money to be sacrosanct. She was actually doing well in school for the first time since Tom and I broke up. She was even hanging around with a lovely new friend, Sophie, who I liked enor­mously and, better still, who seemed to be a wonderful influence on her.
Not so long ago Darcy had seemed inseparable from Abi Kinsella who'd struck me as a troubled kid who trouble seemed to follow. On the other hand, this new pal Sophie was bright, intelligent and hard-working, but with the effortless knack of somehow making it all appear cool.
And, thankfully, by some miracle this was beginning to rub off on Darcy. Her grades were now as good as they'd
ever been and she actually seemed happy to head off to school every morning, without my having to nag her out of bed, wrestle with her to eat a breakfast, then physically shove the girl out the hall door.
So yes, her school fees may well have been bloody extor­tion, but I'd rather have starved myself before ever cutting back on them.
The house was the other huge monthly expense that was now turning into a giant millstone around my neck. The mortgage payments were now a whopping
€
1500 a month and it seemed to gobble up most of my salary. To the extent that by the time that and Darcy's fees were covered, not to mention grocery shopping/car insurance/petrol, there never seemed to be a single bean left to actu­ally live off.
By May, I was at my wits' end. All I ever seemed to do was work, I thought in frustration, so how come by the end of each and every month, I was left counting the days till my next payment went through?
The answer hit me sharper than a chilli finger in the eye one quiet weekday morning in work. 8am and, as usual, I was late into the office (traffic) to be greeted by a disgruntled eye-roll from Bernie, which I chose to ignore. (Always, always the best policy with Bernie.)
Meanwhile I plonked down at my desk and frantically tried to get up to speed on the McKinsey brief, before a big meeting we were due to have later on that morning with the mighty George McKinsey himself. Or as he liked to style himself, George McKinsey III. Almost as if he was a character from Shakespeare.
To fill you in, 'George McKinsey III' was a self-described businessman and entrepreneur at the top of his game: a
player who headed up one of those spidery global corpora­tions with offices that seemed to stretch from Birmingham to Belize and back again. But after an intricately thorough tax audit, he was now facing possible tax avoidance charges and that's where Sloan Curtis came in.
However, as you can imagine with a company that expansive, the legal end of it was a never-ending nightmare. So it was effectively left to myself, Harry and Bernie to somehow stich together a defense that would hold water in court under cross-examination. We'd all been slaving away on the case for months by then, and the more we uncovered about McKinsey's tax affairs, the more that seemed to lurk underneath.
Thank you to Avon for inviting me to take part in the blog tour and for a copy of the book in return for an honest review.